Restock Date: 12/12: Summers at the Lake Bath Soap
---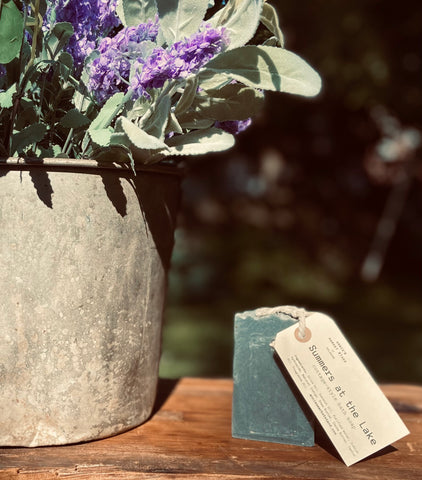 Same great soap, now in a big bar!
Memories of summers spent by the lake. Never-ending sandy toes & sun burnt noses. Old cots and mosquito bites. Mismatched jars of hastily-cut hydrangeas planning their escape. It's summertime.
Our most popular scent in both our soap and bath bombs, Summers at the Lake Bath Soap is a beautiful floral blend of blue hydrangea and jasmine. It's the perfect summer treat twelve months a year! The base of this lovely soap is our signature shop blend of creamy milk, Shea and cocoa butters, which will gently glide over your skin leaving it soft-to-the-touch and lightly scented.
Summers at the Lake Bath Soap Ingredients:
Olive Oil
Coconut Oil
Purified Water
Sodium Hydroxide
Milk
Shea Butter
Cocoa Butter
Castor Oil
Natural Indigo Powder
Phthalate-free Fragrance
OUR BARS ARE NOW A WHOPPING 6.8 to 7oz! This is a family-friendly size bar. 
All of our soap bars are made by us in small batches to control quality. We strive for consistency so you are always getting the product we've shown, however, please know that color and size may vary slightly from each batch.