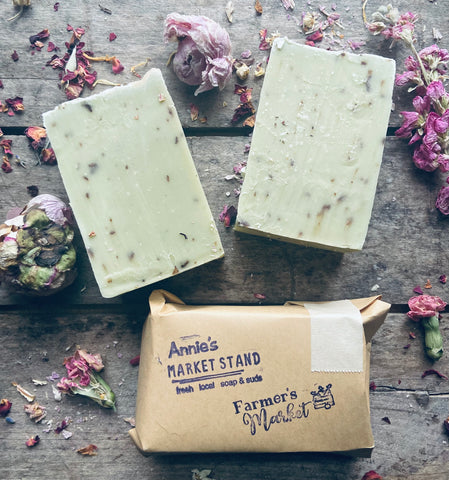 Same beautiful soap! Now in a big bar!
We took our love (ok, obsession), for farmer's markets and turned it into the perfect soap that is all things fresh and local! 
We're always inspired by the fragrant fresh flowers and herbs that pack our favorite local market. Walking through the crowded aisles overflowing with mismatched bouquets, we can't resist the freshly-cut flowers and just-snipped bundles of fresh herbs. The blend of floral and herb creates the most perfect, market scent.
Our Farmer's Market Soap is a simple, no-fuss, "fresh greens" scented soap, like a handful of fresh herbs and a touch of market flowers. Light, beautiful and unique. This bar is packed with nourishing Shea and Cocoa butters and natural French Green Clay for that perfect green hue. 
Farmer's Market Soap Ingredients: 

Olive Oil
Coconut Oil

Sodium Hydroxide

Shea Butter

Purified Water
French Green Clay 
Mango Butter
Castor Oil
Phthalate-Free Fragrance

New bar size! Bars are approximately 6.8-7+ ounces and come packaged and labeled in our signature market parcel wrap.
Related Products
---